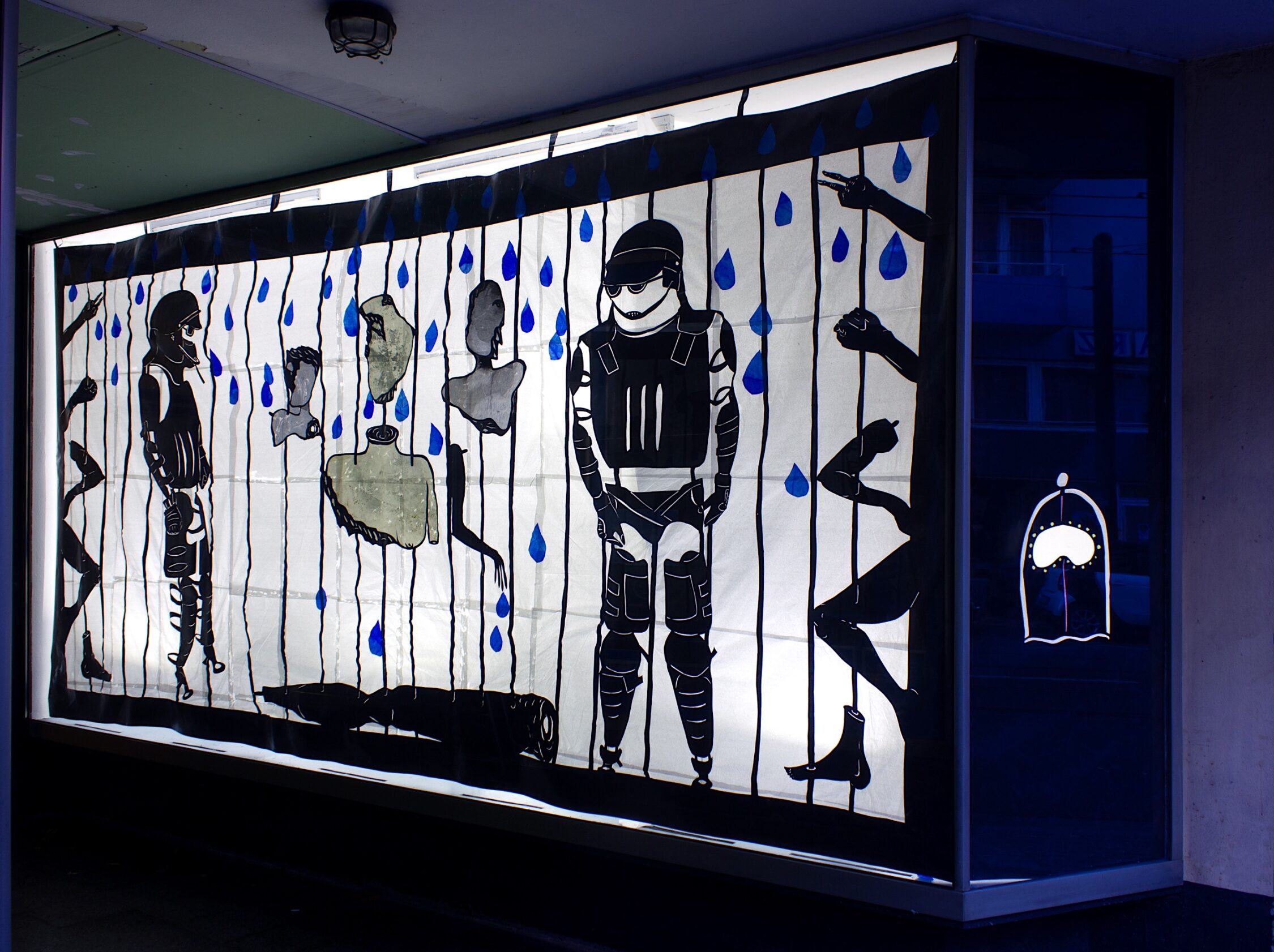 Ich komme in die Zelle FS8, ein Container. Unzählige Container in einer riesigen Halle. Das Licht ist grell, die Neonröhren flimmern und die Luft ist schlecht. Mir wird gesagt, dies war eine Erstaufnahmestelle für Geflüchtete.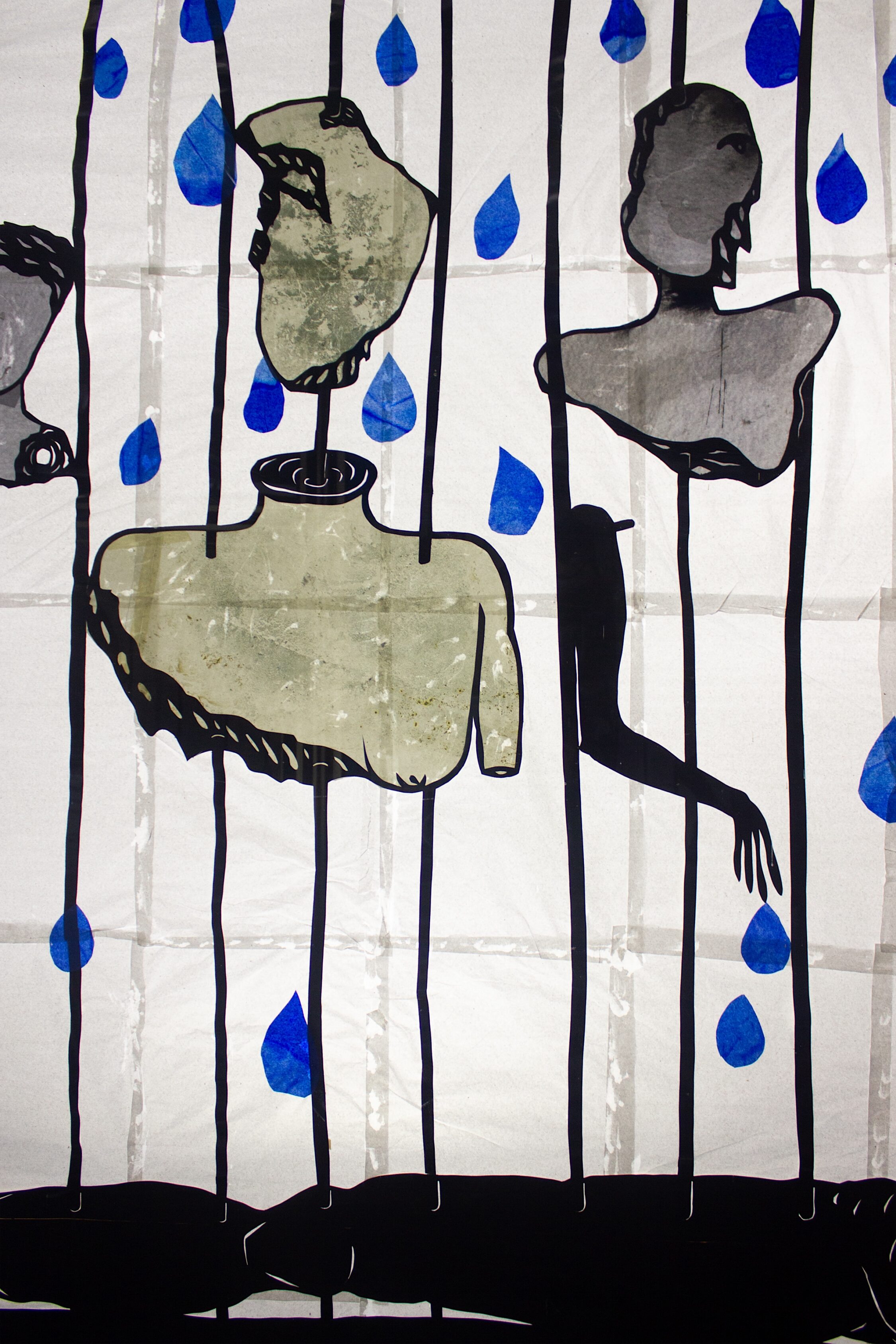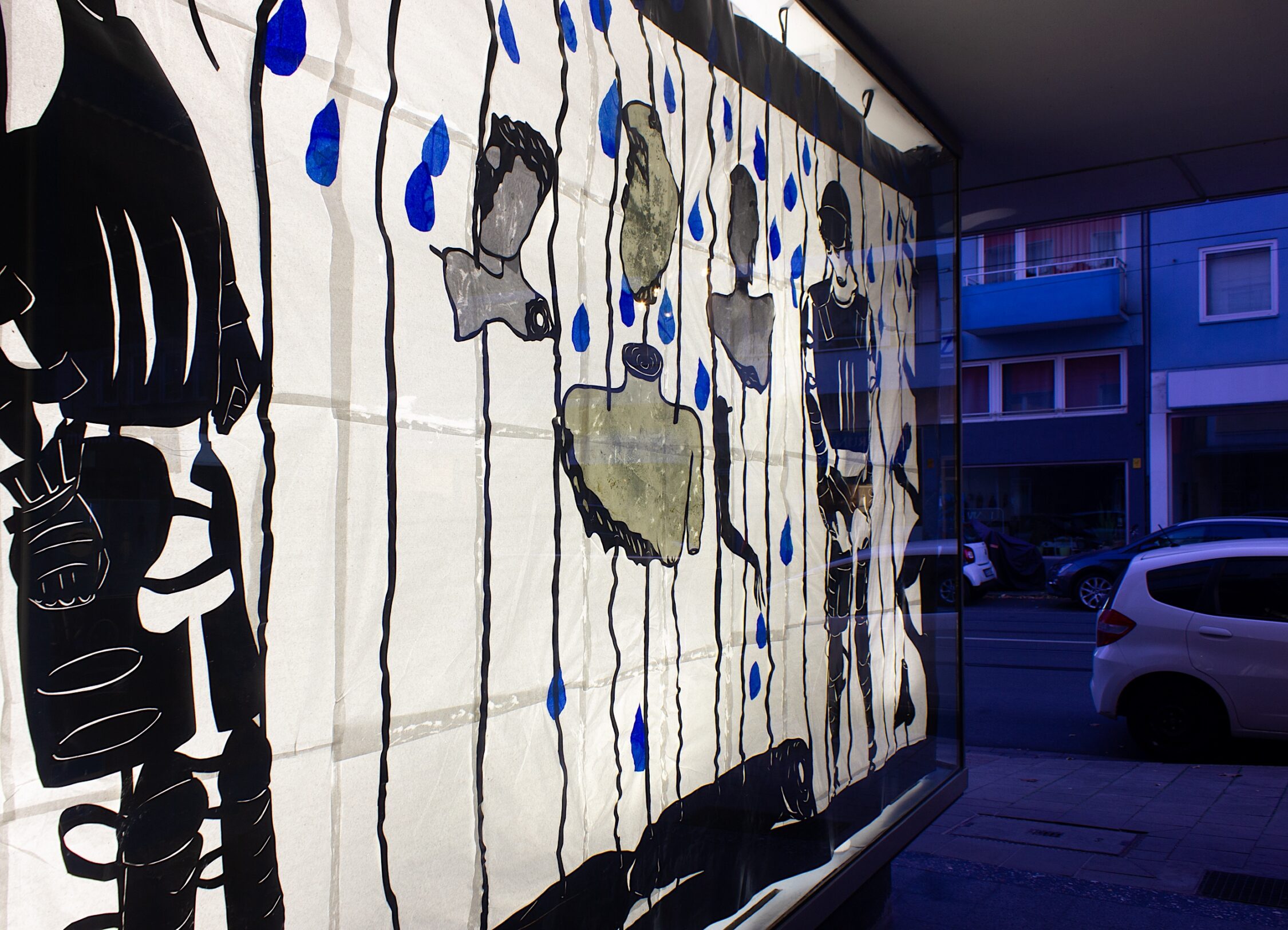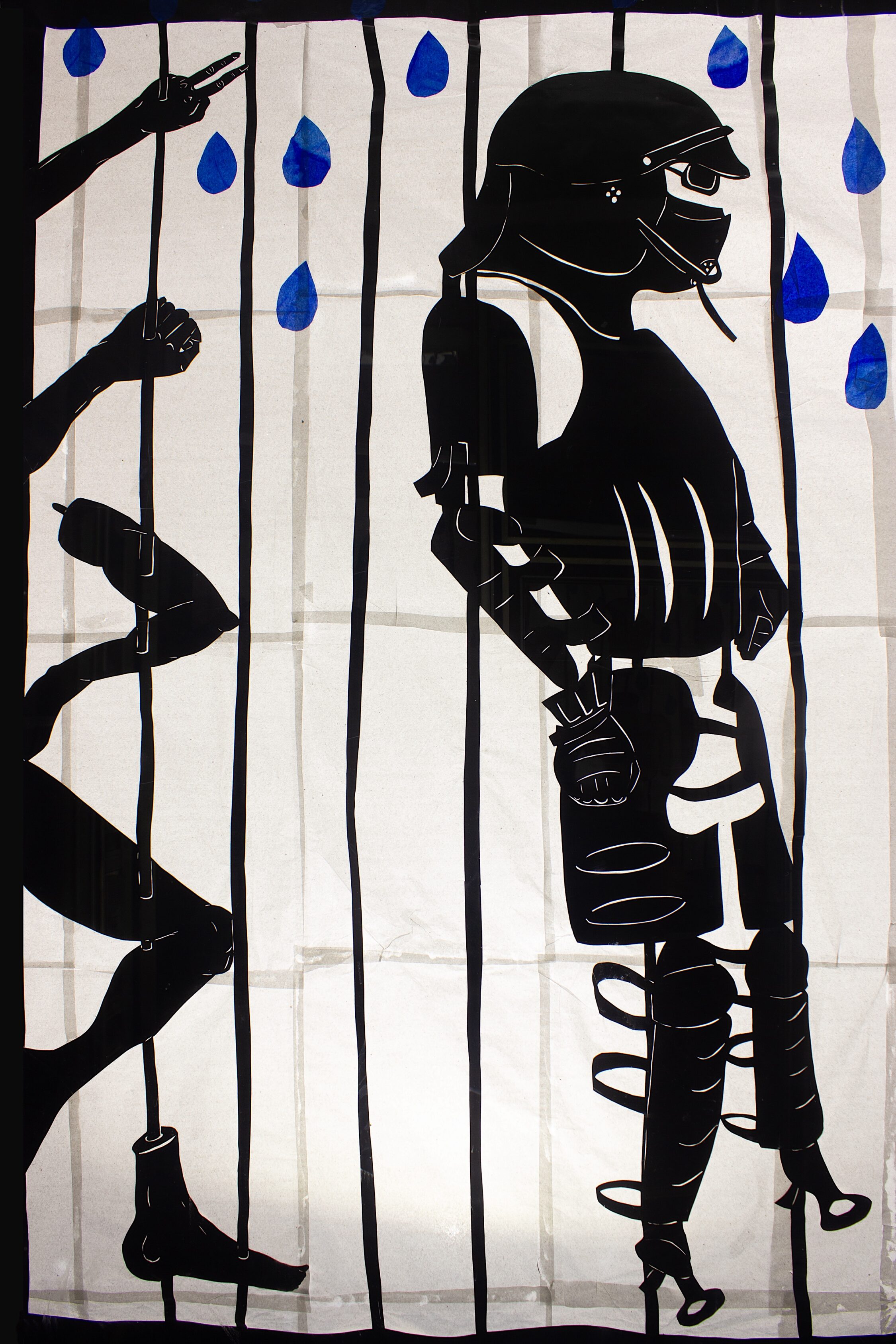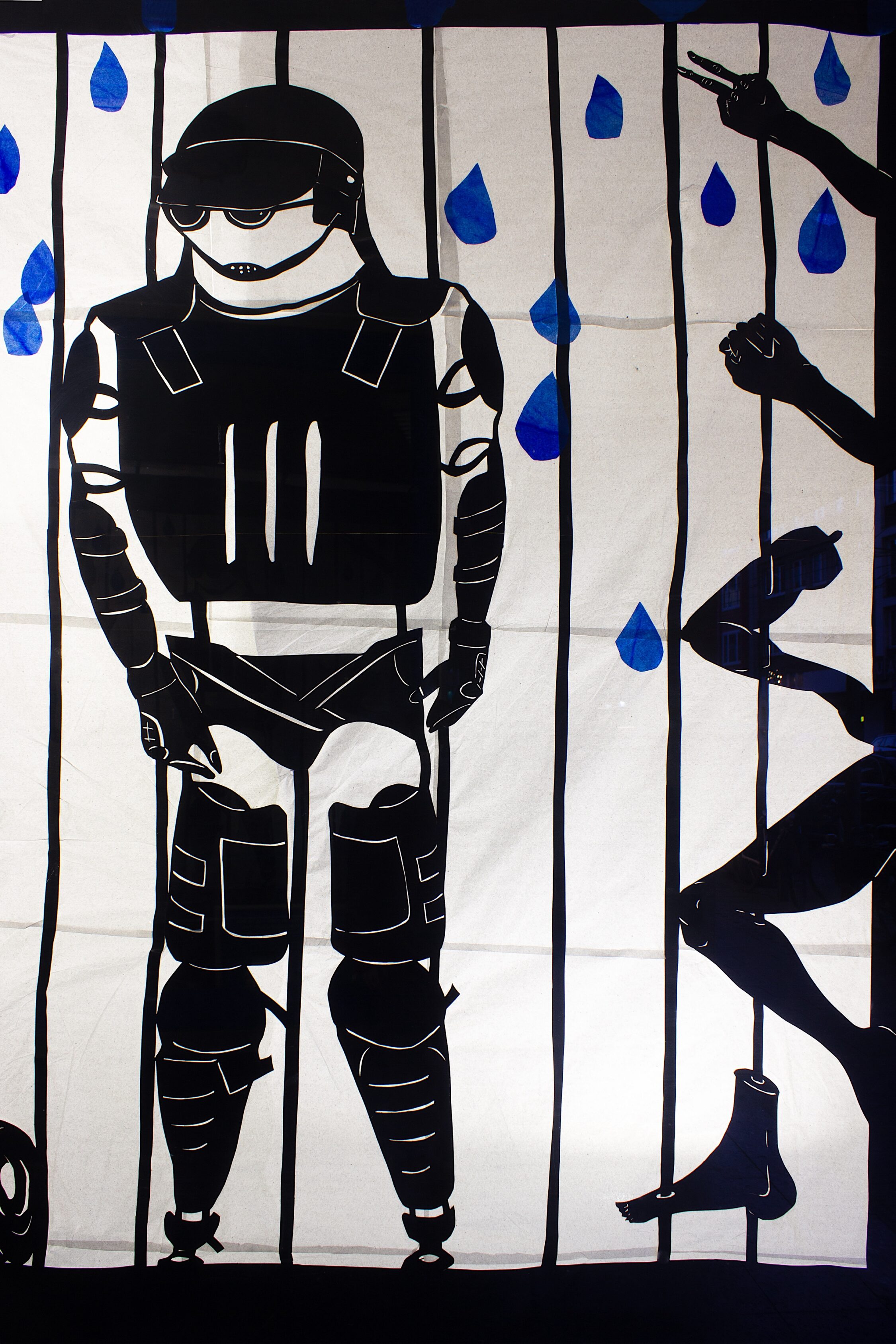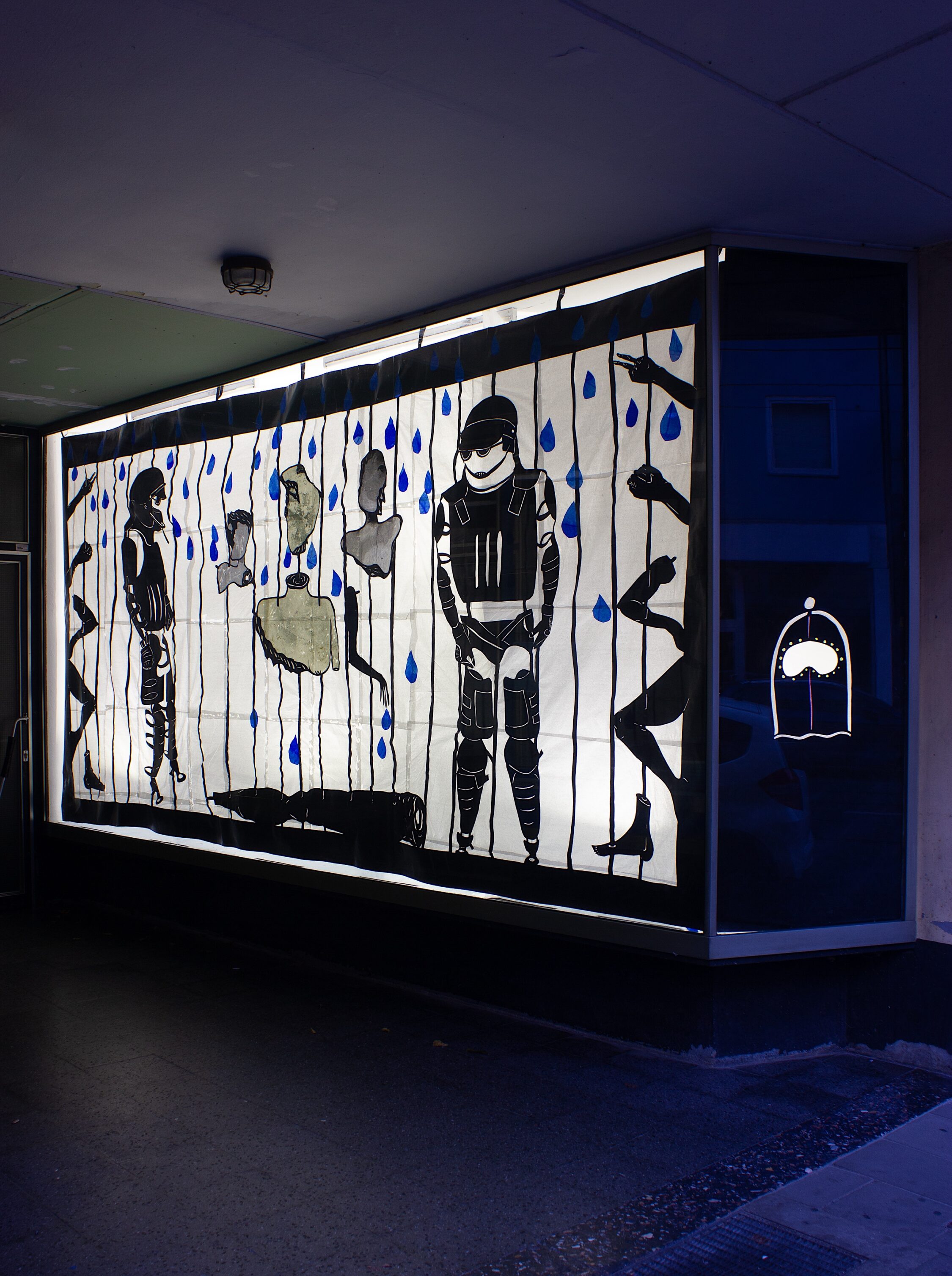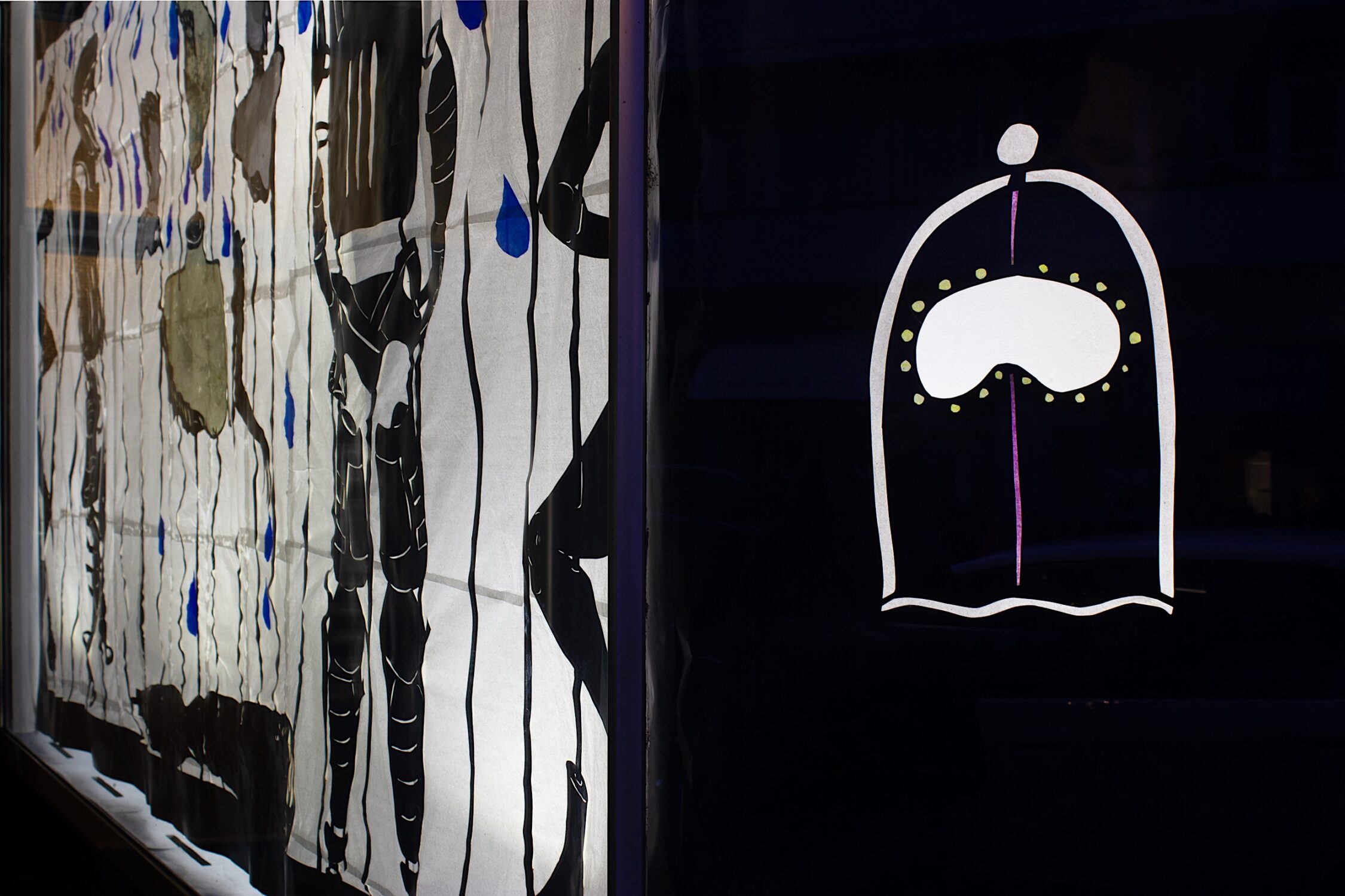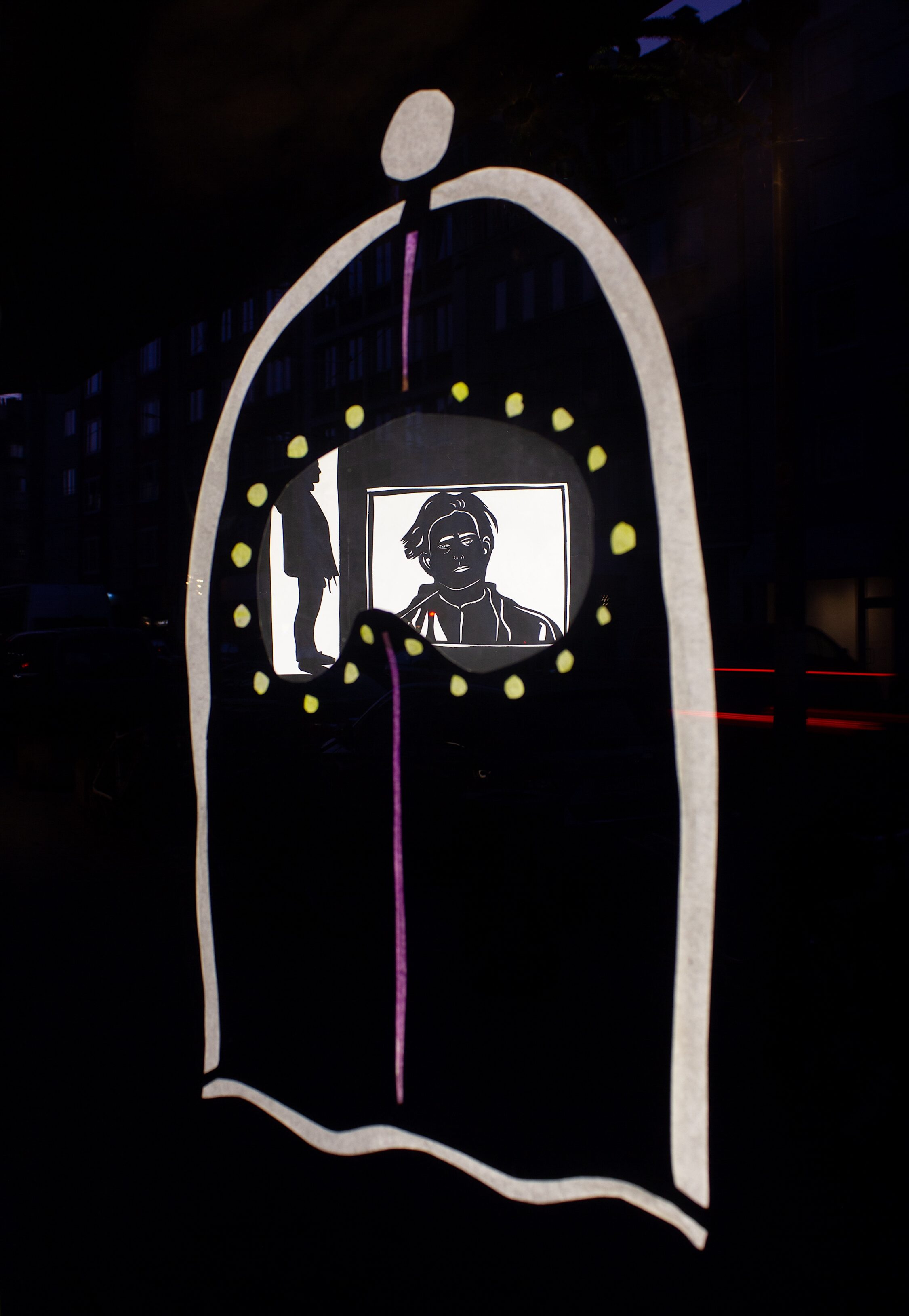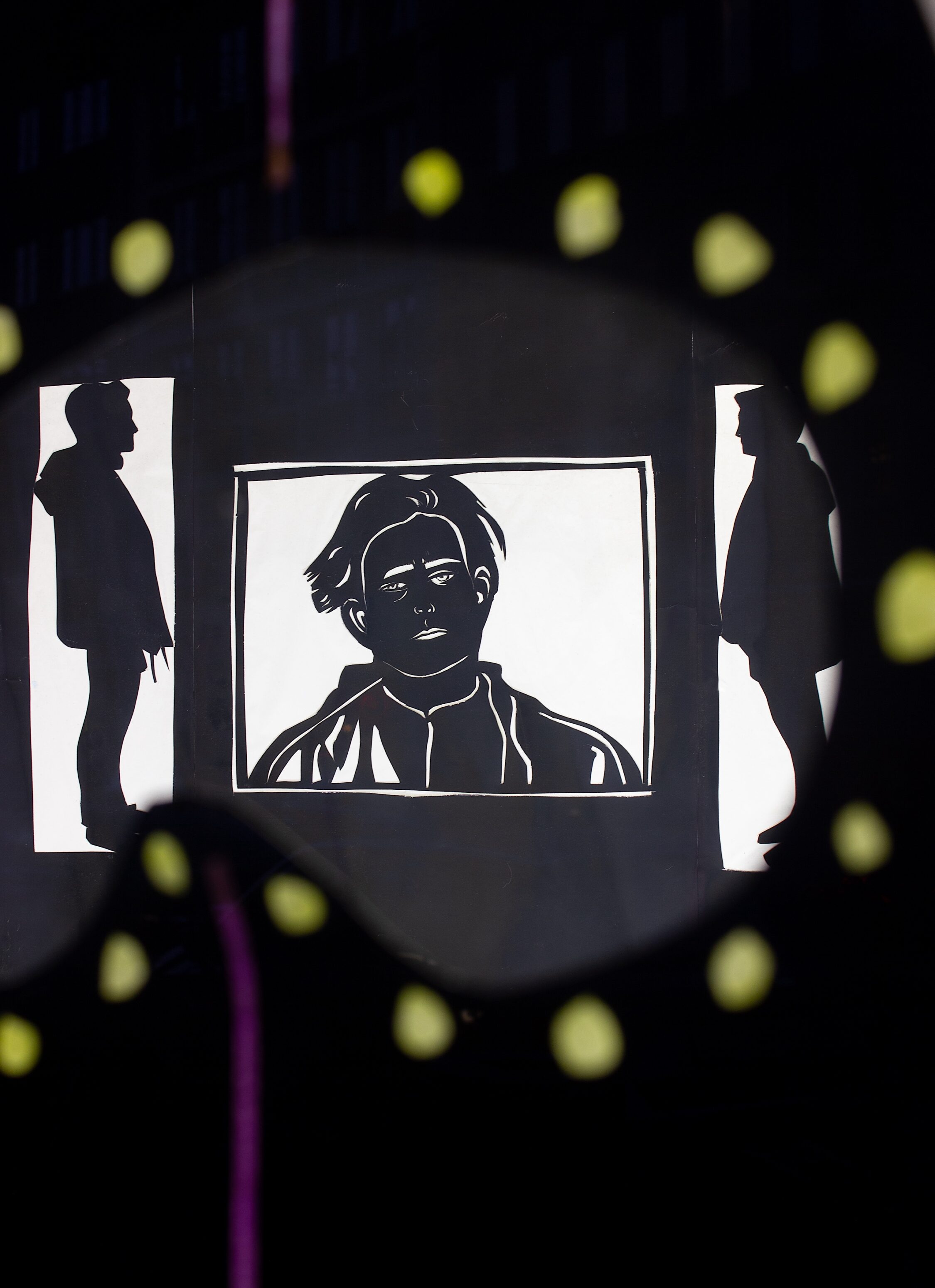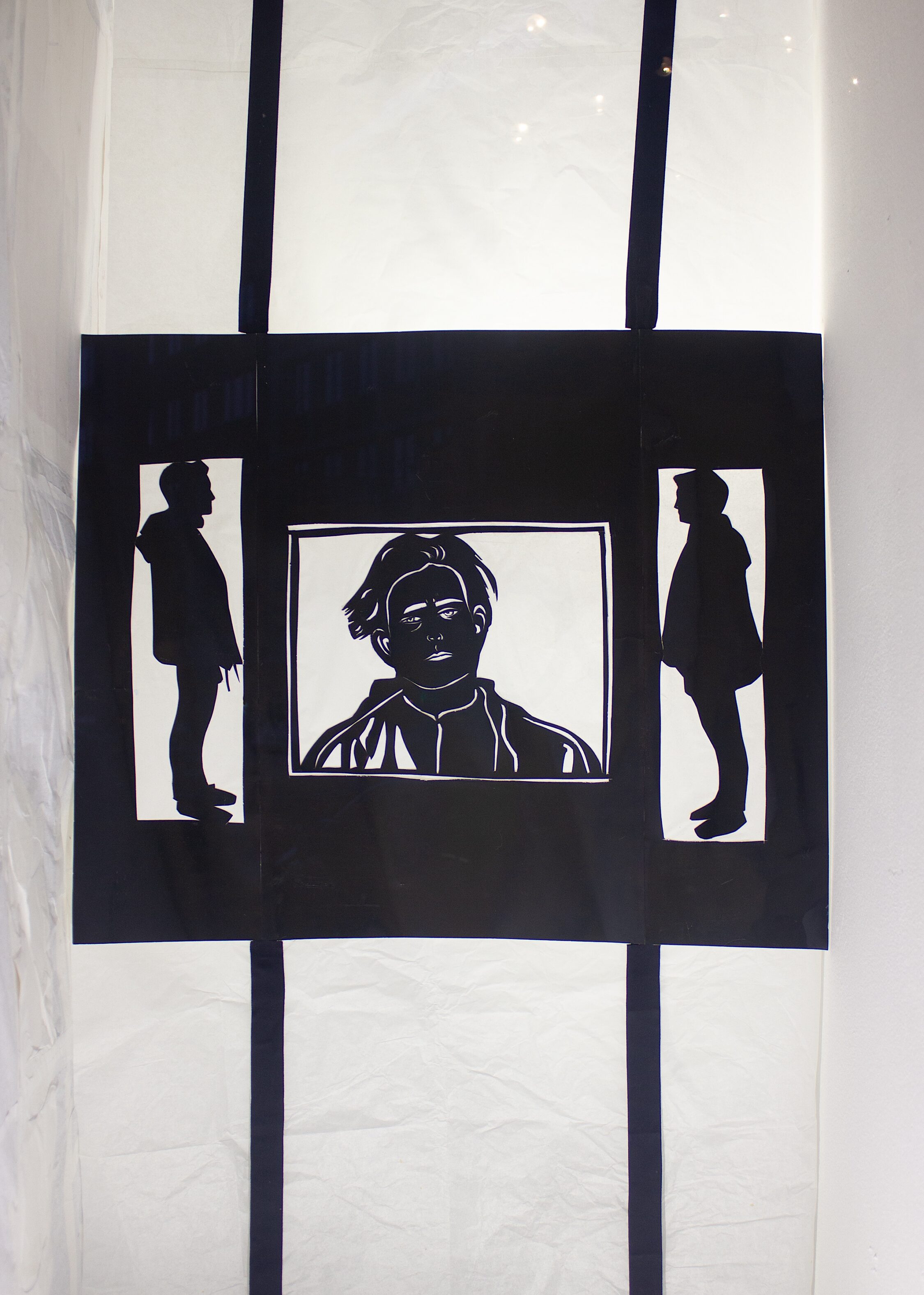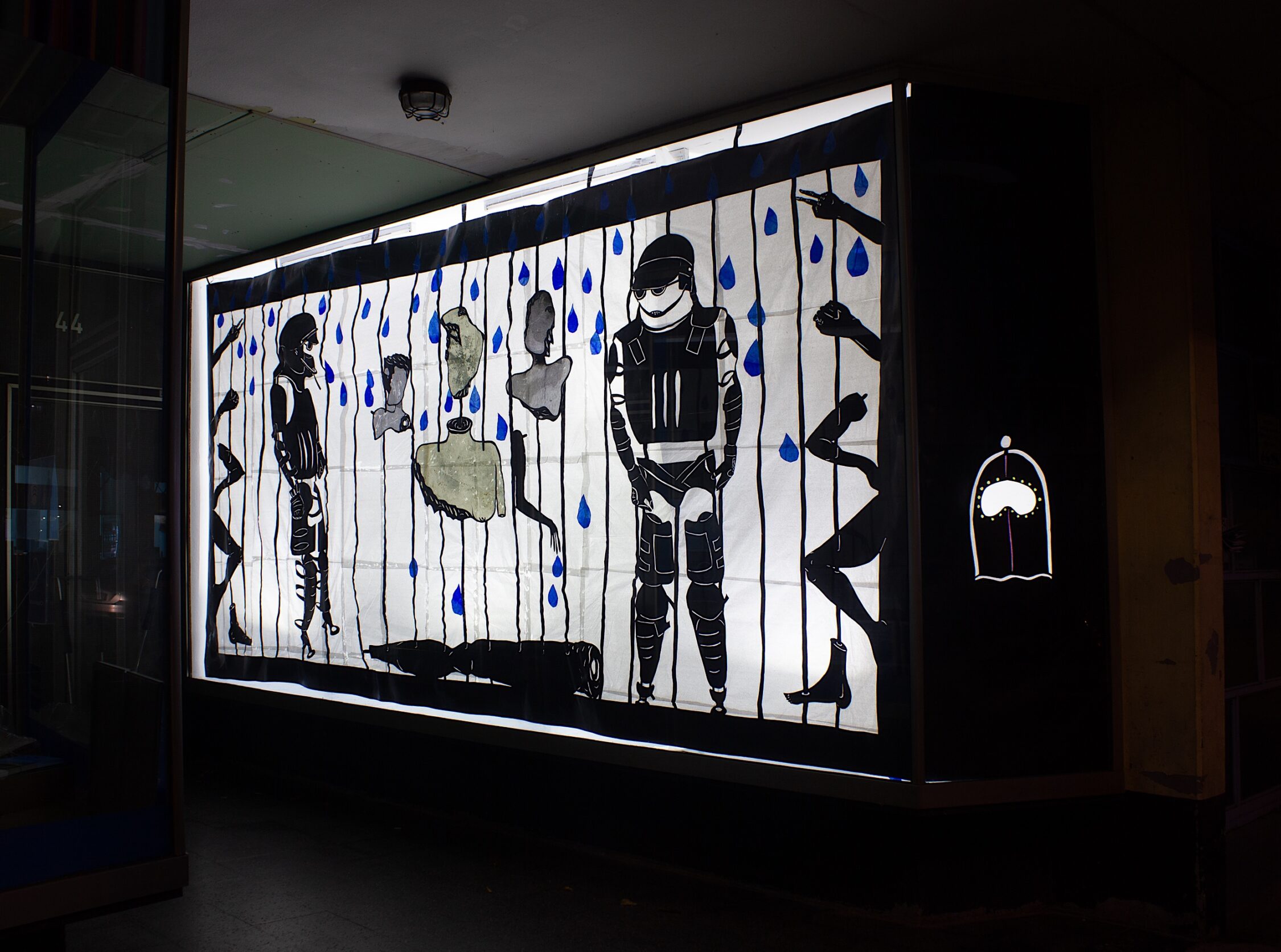 Am 3. Dezember beginnen in Deutschland die Prozesse gegen 57 Personen, die bei den Protesten gegen die G20 in Hamburg 2017 am Rondenbarg von einer Polizeihundertschaft festgenommen wurden. Der medial viel beachtete «Rondenbarg-Komplex» ist unter anderem deshalb umstritten, weil der verhältnismäßige brutale Polizeieinsatz unter den Demonstrant*innen zu vielen schweren Verletzungen führte. Anlässlich dieses Prozessbeginns formuliert Claudia Barth mit einer großformatigen Scherenschnitt-Arbeit ihre Perspektive auf dieses Ereignis und reflektiert über ihre eigene Festnahme und Situation als eine der Angeklagten in Erwartung des anlaufenden Verfahrens. Seit Langem stellen verschiedene Formen des Freiheitsentzugs in Barths Arbeit ein Kernthema dar. Insbesondere problematisiert sie Freiheitsentzug als eine weibliche Erfahrung unter der Voraussetzung eines auch in Freiheit tiefgreifend von Repressionen bestimmten Lebens. Dabei kehrt sie immer wieder zu dem Medium Scherenschnitt zurück. Mit dem Scherenschnitt-Zyklus "Blood, Tears and Milk" (Galerija FLU , Belgrad, 2017) verhandelte sie eine ungeklärte Episode im Leben ihrer Großmutter, die – vermutlich infolge postnataler Depression – in eine psychiatrische Anstalt in São Paulo eingewiesen wurde. Formal an schmiedeeiserne Rundbogenfenster angelehnt, die Gitter als Ornament kaschieren, lesen diese Scherenschnitte zwischen den Zeilen der Sprachlosigkeit. Selbst wenn ein Scherenschnitt kein Gitterfenster abbildet, ist er, strukturell, doch zwangsläufig ein Gitter, da er nirgendwo eine größere Lücke aufweisen darf. Alles in ihm muss miteinander verknüpft werden, sonst fällt er in sich zusammen. Aus diesem Gittercharakter heraus entwickelt Claudia Barth einen kritischen Diskurs. Ausschlaggebend ist dabei das Wesen des Gitters als ein Gebilde, das sich zwischen einem davor und einem dahinter aufspannt: zugleich Fenster und Schranke, Kommunikationsdurchlass und Sprach-Sieb, indem es Sprechende auf beiden Seiten in einen Zustand der Befangenheit versetzt. Damit symbolisiert das Gitter auch die grundsätzliche Bedingtheit der Vermittlung zwischen ich und du. Gitter, an denen kein Austausch stattfindet, verfallen oft selbst ins Sprechen. Vielfach, um zu leugnen, was sie sind. Mit Vorliebe geben sich schmiedeeiserne Zäune als Rosenhecken aus. Auch Claudia Barths Scherenschnitte sprechen an Grenzen, an denen eine Verständigung ausgeblieben ist oder nicht herstellbar scheint. Der flächendeckende Scherenschnitt, den sie hinter das Glas der kastenförmigen Ausstellungsvitrine montiert, deutet das Innere der Vitrine in eine nur partiell einsehbare Gefängniszelle um. Perspektiven eröffnend erzählt er von dem, was den Blick verstellt: gegenseitiger Dämonisierung zwischen vielköpfigen Monstern und gestaltloser (Polizei-)Gewalt.
Im Mittelpunkt der Arbeit Claudia Barths (* 1987 in Herrliberg, Schweiz) steht eine auf Sprechakte und Bewegung konzentrierte Performancepraxis. Aus ihrer gesellschaftlich und politisch engagierten künstlerischen Aktivität gehen außerdem Videoarbeiten, bildhauerische Werke und große Scherenschnitte hervor. 2019 brachte Barth am EinTanzhaus Mannheim das Langzeitprojekt "eu-você", eine Zusammenarbeit mit ihrer Schwester Isabelle Barth und brasilianischen Künstler*innen, zum Abschluss. Teil dieses Projekts sind auch die Videoarbeiten "every smell a thousand memories", die ebenfalls 2019 in der Raum*station Zürich gezeigt wurde, sowie "Eu não falo português – Ich spreche kein portugiesisch", die dieses Jahr als Abschlussarbeit an der Hochschule der Künste Bern online zu sehen ist. Gemeinsam mit Franca Scholz und Sophia Seiss ist sie Teil des Performancekollektivs SPINE, das zuletzt im September 2020 in der Simultanhalle Köln die Performance "Passacaglia della Vita" zeigte. In Agnes Scherers Performanceprojekt "The Teacher", das derzeit im Cabaret Voltaire, Zürich, gastiert, wirkt Claudia Barth als Rezitatorin mit. Gemeinsam mit anderen Nominierten erhielt sie im Oktober den Performancepreis Schweiz 2020. Ihre Ausstellung bei sonneundsolche Düsseldorf entstand analog zu ihrer aktuellen Performance "FREIHEITSENTZIEHUNGSSACHE", die sich ebenfalls auf die G20-Festnahmen bezieht.
Text von Agnes Scherer
//
On December 3rd begins the trial of 57 people who were arrested by a large police force at the G20 protest on Rondenbarg street. The so called «Rondenbarg complex» has been much discussed by the media because of the comparatively brutal way the police operated, leading to many severe injuries among the protesters. On the occasion of the beginning of the trial, Claudia Barth expresses her own perspective on this event. In the form of a large paper cut she reflects upon her own arrest at the time as well as her current situation as one of the accused individuals. For a long time, different forms of deprivation of freedom have been a core topic in Barth's work – especially as a female experience against the background of profound repression, even as a free citizen. Revolving around this subject, she keeps returning to the paper cut as a medium. With her paper cut cycle «Blood, Tears and Milk» (Galerija FLU, Belgrad, 2017) she addressed an unresolved chapter in the life of her grandmother who was institutionalized in São Paulo, probably in consequence of suffering postnatal depression. Resembling arched windows with iron bars masked as ornaments, these paper cuts read between the lines of speechlessness. Even if a paper cut does not explicitly depict a lattice fence, the underlying structure of every paper cut is inevitably a kind of grid, as it can't have any large gaps. Everything within it has to be connected or the paper cut would collapse. Building up on this grid character, Claudia Barth develops a critical discourse, crucial to which is the nature of the grid as a structure which defines a space in front and a space behind. It's both window and barrier, both passageway for communication and a speech sieve, inflicting bias on the speakers from both sides. In this sense, the grid also symbolizes the fundamental conditionality of communication between two different minds. Lattice fences at which no exchange takes place often begin to speak themselves and, in many cases, not the truth. Fences made of wrought iron like to masquerade as rosebushes. Claudia Barth's paper cuts also speak along boundaries at which an exchange has failed to take place or seems impossible to begin. Covering the whole window of the exhibition vitrine, her paper cut interprets its interior as an only partially visible prison cell. A lattice that confronts the gaze in order to unblock the mind's eye, as it speaks about the reflexive demonization of many headed monsters and formless (police)violence.
The work of Claudia Barth (* 1987 in Herrliberg, Switzerland) is centered around a performance practice based on speech and movement. As part of her socially and politically engaged artistic activity she also creates video works, sculptures and large paper cuts. In 2019, she presented "eu-você" at EinTanzhaus Mannheim, a long term project which she developed in collaboration with her sister Isabelle Barth and artists from Brazil. In the context of this project Barth further created the two video works «every smell a thousand memories», which was shown at Raumstation Zürich in 2019, and "Eu não falo português – Ich spreche kein portugiesisch", which is currently on view online as one of this year's graduation projects at Hochschule der Künste Bern. Together with Franca Scholz and Sophia Seiss, Claudia Barth is part of the performace collective SPINE, which last presented «Passacaglia della Vita» at Simultanhalle, Cologne. In Agnes Scherer's operetta «The Teacher», which is currently being presented at Cabaret Voltaire, Zürich, Claudia performs as a reciter. As one of this year's nominees she received the Performancepreis Schweiz 2020. Her exhibition at sonneundsolche Düsseldorf was developed in parallel to Claudia Barth's most recent performance «FREIHEITSENTZIEHUNGSSACHE», which also deals with the arrests around the protest against the G20 in 2017.
Text by Agnes Scherer